SkyboxerTech

Welcome internet user. This webpage is dedicated to my YouTube channel where I, Skyboxer, do product reviews, testing, gaming, tutorials, and much much more.

I started my channel three years ago under the name of Skyboxer Productions and I was your average two maybe three views per video YouTuber. In April of 2014 I began really making videos and editing together fan made commercials and small animations. Here I began to build a subscriber base. After a couple months I was inspired to make a review video of the Zotac GTX 970 GPU that I received and the video hit big in terms of my regular views. After this I began making reviews of anything I could and even came up with some other types of videos as well.

Currently I am standing at 1600 Subscribers and am growing quickly. I cannot wait to see what the future of the channel brings with better quality and sponsorship to hopefully pull me in full time to make more videos for the viewers to enjoy!
---
---
What I use to make Videos...
Camera

I use a DSLR camera with a slider and tripod to film my videos. The camera is a Canon 500D

Software

I use the Adobe Suite to edit and render videos. After Effects is used for animations.

Editing Rig

My main PC is Custom Built and features an Intel 4790k, and a GTX 970. Full Specs on YouTube!
---
Powered by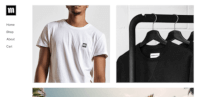 Create your own unique website with customizable templates.